About Countryside Art
Hello my name is Kathy Brookes. I am Sales Director and work alongside my brother and fellow Director Lawrence Chapman in Countryside Art.
Let me tell you about the company in which Lawrence and I, plus the rest of our Countryside Art team, share a great passion.
Present Day Countryside Art….
Over the 40 or more years the company has been trading we have become the acknowledged experts in the field of quality and complex direct screen printing on to tea towels, bags, cushions, aprons and kitchen textiles. We work from a state-of-the-art modern purpose–built factory equipped with the latest technology in a small rural market town in the Lincolnshire Wolds.
Our company is unique in that everything is created in-house from design through print to final manufacture allowing our customers a degree of bespoke input not available elsewhere. Our very talented and experienced design team (including two of the best textile colour separators in the UK) offer a huge amount of input during the actual artwork stages of all our products. In addition, guidance from our very helpful Design Co-ordinator and Sales team allows the addition of lots of bespoke manufacturing features plus the ability to have products individually designed to your own specifications.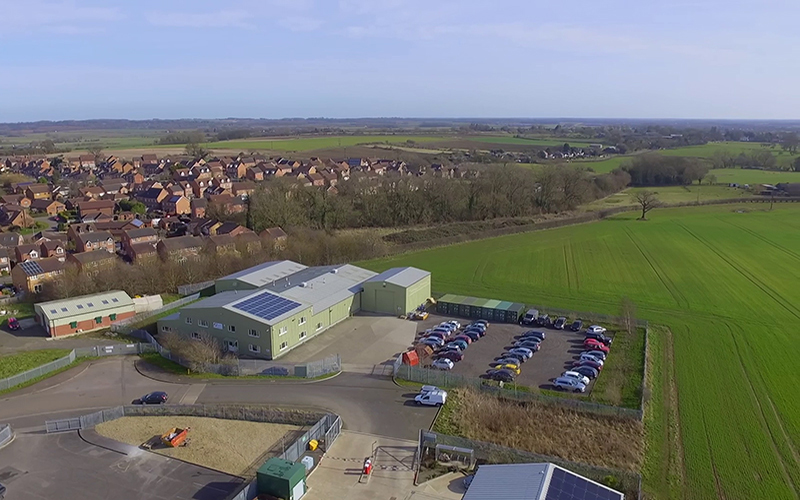 We were the leaders in our market in being the first to move to digital textile printing using pigment inks; installing the very first digital machine of its kind in the UK over three years ago. We have also recently fully upgraded our digital print department this year with three new printing machines and can offer small to large runs of superb quality full colour digital printing on to tea towels and all of our textile products.
Our cotton is woven and finished to our specific requirements allowing us to maintain superb levels of quality plus ensuring our supply chain is both ethical and sustainable. Our large sewing unit is also fully equipped with all the latest technology including digital laser cutting. Then to further enhance your products we offer a wide range of attractive personalised packaging options which are designed and printed in-house.
We offer low minimum orders plus all our products pass through a rigorous quality control system ensuring you will be 100% satisfied with the quality of the work you receive. Our work is very popular and we have a great many loyal repeat customers so our lead times are sometimes longer than other companies. But the feedback we constantly receive is that our products are worth waiting for and the quality second to none.
In order to offer a complete range giftware options to our customers, we also produce a large range of mugs, melamine, paper products and garments (the mugs and melamine once designed are sent out for final manufacture to other UK companies working on our behalf). All these extra products can be designed to complement and co-ordinate with our tea towels and textile giftware.
We hope you find our website interesting and also look forward to hopefully working with you in the future.
Best wishes
Kathy Brookes, Sales Director
---
The History of Countryside Art….
Countryside Art's current Managing Directors are myself, Kathy Brookes and my brother Lawrence Chapman. However the company was founded in 1975 by our parents John and Margery Chapman along with a close family friend, Patrick Carnwath.
Our father, John, started as an officer in the Merchant Navy, followed by stints in turn managing fleets of trawlers and then oil supply ships in West Africa. On our family's return to the UK he worked as an area fundraising co-ordinator for the Royal National Lifeboat Institution. Throughout all this time our mother, Marge as she liked to be known, was more than fully occupied not only raising us to the best of her abilities, but also caring for our younger brother Patrick, or Patch as he was nicknamed. Patch was born with severe learning difficulties and physical disabilities so has always needed a great deal of support throughout his life.
With our father, John, away a lot of the time it was becoming apparent for our mother, Marge, that looking after the three of us on her own was becoming too much. So our parents made the decision to set up their own business.
Why choose printing when they had no experience in that area? Well John and Marge (when she had time) were both excellent artists and John, in particular painted and exhibited in local exhibitions; plus had illustrated a children's book. In those early days, hand silk screen printing was relatively easy to set up and they decided initially to start a small business in their barn printing textiles for curtains and furnishings.
At about the same time children from Patch's school (Eresby Special School in Spilsby) started coming over for art and printing work experience sessions.
In 1975, when the old premises became too small, we all moved (along with our family friend Patrick and his very young daughter Tandy) to share a lovely, rambling old Rectory. This was situated in a little village called Swaby, eight miles from Spilsby. With plenty of room in the grounds they built a larger workshop and Countryside Art was formed.
At this stage our parents were still printing interior design textiles. But whilst working with the children from Eresby School, they all decided to design a couple of school tea towels. They were a great success and our very entrepreneurial Grandmother, Patricia Chapman, said 'Why not market this to other schools?' and went off to promote the idea to schools in her area. It snowballed!
'Granny Pat', as we called her, also suggested John draw her local church, St Margaret's in Lowestoft, and print this on a tea towel – and once again, another great success. So Granny then went around lots of local churches in Suffolk and Norfolk and the idea of Countryside Art producing commemorative tea towels were born.
Over the years the company grew and grew, gaining a reputation for excellent quality work, until we again outgrew the existing premises. By this stage Lawrence and I, plus our partners Anita and Rob, who both also work alongside us, had joined as full time members of the company. Patrick, having assisted with the start-up of the company, returned to his first love of journalism. Although he continued to live with our parents as part of our family until his sad passing a few years ago.
Throughout this time, from the mid seventies until they retired in 2005, our parents continued in their involvement with assisting people with disabilities to work within the company and this culminated with us winning BT's Deaf Employer of the Year in 1994 with our profoundly deaf employee Marcus Bates. This award was partly due to the fact myself and nine other employees all took (and passed) our British Sign Language Level One qualification. I then went on to study BSL for a further year. It was a very worthwhile experience and led me to find a lot of new friends within the deaf community. At the time I also actively campaigned for the rights of people with disabilities in the work place, speaking at meetings and on the radio and television. Marcus has only recently left us, after working with us for more than twenty four years, in order to be nearer his wife's family in the North of the county but we still remain the best of friends.
Our parent's original ethos is still very much embedded in Countryside Art's DNA and continues to reflect in the way Lawrence and I manage the company.
As I mentioned, 2005 was a momentous year for Countryside Art. We moved from our lovely rural idyll to a state-of-the art, purpose built factory on a quiet, peaceful industrial estate in the small, sleepy market town of Spilsby – still overlooking fields and on the edge of farmland.
Up to this point Lawrence and I had been running the company jointly with our parents. But this seemed the ideal time for both of them to take their well earned retirement. So we took over direct control, with myself concentrating on design and marketing, and Lawrence looking after the financial and production side of the company.
We then embarked on an ambitious period of expansion and growth, extending the factory, buying in the latest and best equipment and streamlining our production processes. Lawrence's background in print has made him obsessive about our quality being the best it can possibly be. My background, first in design and then moving in to sales, has given me the ideal experience to help our team provide our customers with the benefit of all our expert knowledge, built up over many years.
Finally I would like to say Lawrence and I are very lucky in that, in addition to having such a large and loyal customer base, we have also found a group of wonderful people with whom we work on a daily basis. People who, like us, share our love, passion and excitement for what we do, and work with us to provide you with superb quality tea towels and giftware, all beautifully made in the UK, by our fantastic Countryside Art team.